is the easy way to handle Lyrics and Chords.
A digital solution for songs and chords for musicians on phones, tablets and desktops.
LyChor is available on the Apple App store now!
Works on iPhone, iPad and Macs with M1 chip with macOS 13.1 or later.
WebApp available on request.
Android coming soon.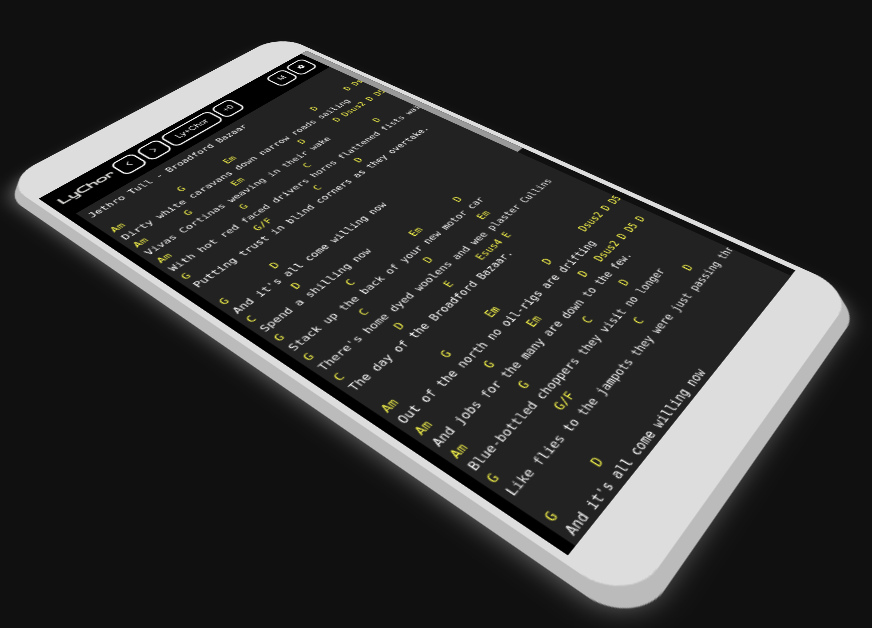 To stay updated, please subscribe to the to the newsletter.
---
Try before you buy
Send an email to lychor@curious-music.com and you can test the webapp for free.
By buying or trying you can influence the direction of development, resulting in a better product for you.
---
Video
Some of the features at a glance:
More videos are in the manual.
---
Features
Very simple user interface
The user interface has been optimized to stay out of your way while playing your music. Everything is just a click away.
Import everything.
LyChor is based on simple text files with minimal formatting, so everything just works.
Simple data handling
Put your files in a folder, zip them and save them to the app. That's it.
Change text sizes
Adjust text sizes to your liking.
Transpose Chords
LyChor automatically detects lines with chords which can be transposed in 12 steps.
Offline access
Once your songs are in, no WiFi connection is needed.
No vendor lock in
All your data is stored on your devices - no uploading to servers.
Fair pricing
Pay only for the app, no recurring costs.
Dark/light mode.
Enable dark mode in live situations that need high contrast like a dark stage.
---
Import
Importing is:
create a zip file with your songs in .txt format
put it into iDrive
select file in your iOS device
done!
See the manual for detailed information.
---
Roadmap
WebApp in 02/2023 ✓
iOS 03/2023 ✓
Android Version 04/2023
---
Pricing
free WebApp
iOS 29$
Android 29$
---
Why?
There isn't an app that is as simple and concise as this one, so we created it.
---
Features missing?
If you think a feature is missing and should be in, contact us.
But it's not unlikely that another service or product can help:
---
Newsletter
If you are interested in LyChor news, please sign up for the newsletter - no spam, promised!